Constantine
vodka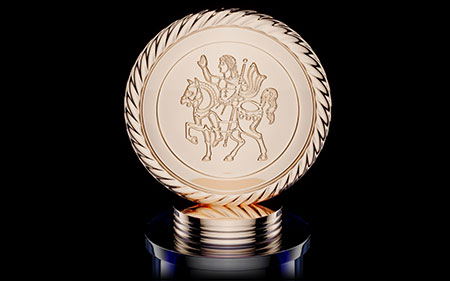 Constantine Vodka is an ultra-premium vodka filled in a gorgeous 750 ml blue & gold bottle. This vodka is based on Constantine the Great. Constantine was the first Emperor in the Roman Era and was known for his absolute divine taste.This vodka is an hymn and hommage to perfection and ultra high quality without any compromise on the design.
About us
In 2003, "ALKO" – Tetovo Introduced a Vodka of unparalleled taste and smoothness: Alexandar Vodka. Soon after it's introduction Alexandar Vodka became the leading brand in R. Macedonia and Eastern Europe.
An even more Ultra premium Vodka called Constantine vodka was introduced to the market.
The vodka was so delicious and so pure that it took over the high end market positioning itself right above Chopin, Belvedere and Stoli.
The ultra high end quality vodka was now widely available to everybody worldwide.
The owners of the company Arno Gasquet & Zoran Markovski dreamed of creating a vodka with a taste as radiant as its presentation.
"I wanted to create the absolute best vodka available on the market" says Zoran. "When I tasted alcohol from the finest wheat, four times distillated and seven times filtrated, in over 200 distillation steps... blended with naturally pure spring mountain water from Shar Planina; I realized that we had the perfect combination".
"This vodka is simply the best vodka ever made. From the design to the amazing purity of its taste, Constantine vodka is definitely the Emperor of Vodka", says Arno Gasquet.
Today with 70% of the production assigned for export, Constantine Vodka is the leading brand in Balkan and Eastern Europe. The iconic brand is now available worldwide.
News
Aprill 15, 2020 | Los Angeles
Arno Gasquet, Zoran Markovski, Constantine Vodka and Constantine Group are pleased to announce that Artem Timofeev is now a partner and the new North America CEO of the illustrious brand.
"Artem Timofeev is an amazing addition to our hyper elitist brand and there is no doubt that his exquisite sense of high end will lead our brand to new height in North America."
Packing Carton & Price
1 carton
12×750 ml 40% alc./vol.
1 carton
10.8 liters / 11.2 kg
1×40 ft container
2 080 cartons / 24 960 bottles
1 bottle
$49.99 for 750 cl
Sales Points